Director of RSU 13 Adult & Community Education, cmonroe@rsu13.org
Christy began working with Adult & Community Education in 2008, and became the Director at RSU13 in 2017. She can be found working in her office on the 2nd floor of McLain on program design, budgets, grants and reporting for both the Adult Education program and After-School Arts programming offered to students K-12 across the district. She enjoys connecting with students and welcomes them to stop by to chat anytime!
Mathematics Instructor, pjunge@rsu13.org
Peg helps students improve skills for high school credentials and college math. Peg enjoys working with students at all levels, making math easy to understand and to do successfully. She also organizes and teaches College Next on site at UROCK, a college preparation course that has run since 2014.
English Instructor, bhiohamdan@rsu13.org
Formerly a high school English teacher, Brenda teaches English in the Learning Center. She can help you prepare for the HiSET® exam, or earn those high school English credits that are keeping you from graduating. Brenda also works with college-bound students to improve their English ACCUPLACER scores. In addition, she enjoys working with students who want to learn to read and write better to get ahead in the workplace — or just for their own enjoyment and satisfaction!
ELL Coordinator and Tutor, edilalla@rsu13.org
Elizabeth is ready to greet English as a Second Language Learners of all skill levels. Students are invited to join in group conversation classes or one-on-one tutoring. She can also help students study for the Citizenship Exam or for the TOEFL Exam. You will find Elizabeth on the 2nd floor in the Computer Lab. We are always happy to see new faces join our group!.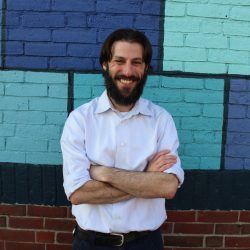 Rob Verbsky
Distance Learning Coordinator, rverbsky@rsu13.org
Rob develops and supports the distance learning classes at RSU 13 Adult Education. While doing this, he works with students to develop digital literacy and provide technical support for accessing materials. Rob also coaches and advises students to help them reach their academic and other goals.
Rebecca Spitz
Program Assistant, rspitz@rsu13.org
Rebecca is the administrative assistant to the RSU 13 Adult Education Program, handling everything from phone calls to filing to data entry. She has been an astronomy educator in informal settings for both K-12 and adult education since 2013, and is looking forward to being more involved in the administrative work that makes those programs possible. Stop by her office on the 2nd floor any time for a cup of coffee or tea!
Mike Lokuta

HiSET® Instructor at Knox County Jail, mlokuta@rsu13.org