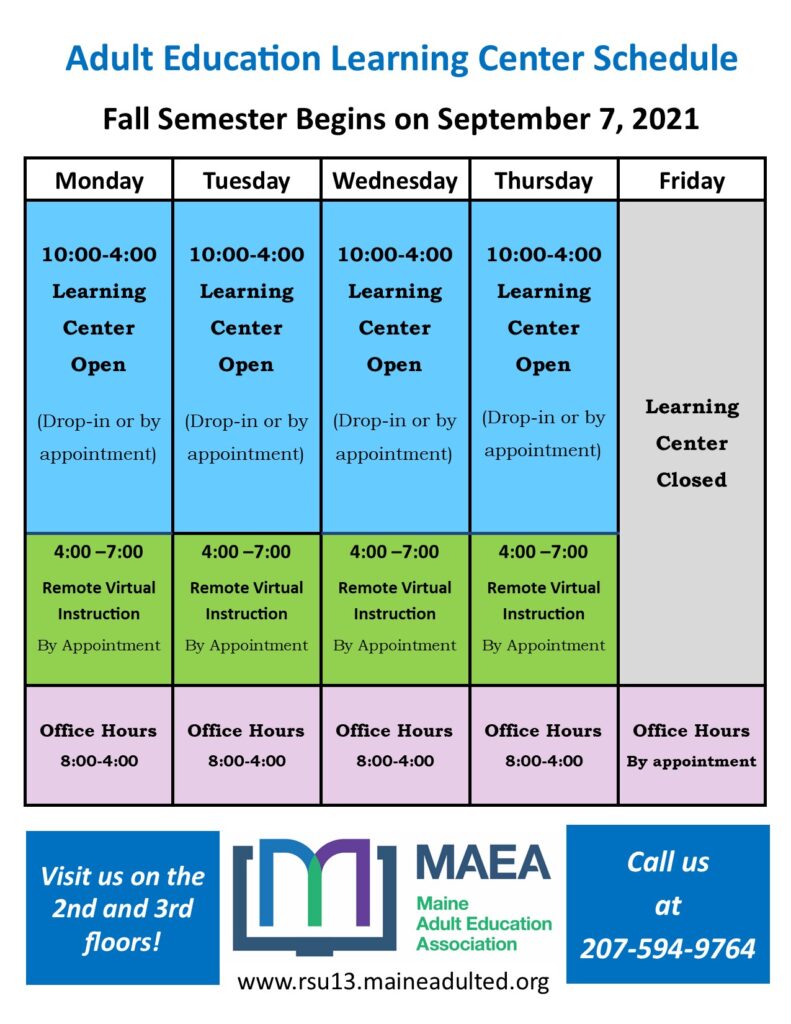 Congratulations All 2020-2021 Graduates!
Aidan McCormick shows off his hard-earned High School Diploma!
Graduate Profile:
Aidan McCormick graduated with his Maine State Equivalency Diploma which he achieved by passing all five subject exams that comprise the High School Equivalency Tests (HiSET). He had tried Adult Ed in the past, but shared that, "I was desperate, and I was looking for a new beginning. I knew I needed a regular routine and I really wanted to finish this time." Aidan came to the Learning Center regularly during the fall of 2019 and winter of 2020. He made fast progress through his Reading, Social Studies, Science and Writing tests. Since he left school after 7th grade, he knew that Math was going to be a long road and he worked closely with our volunteer tutor, Peter Harrison. Peter noted, "It was fun to work with Aidan to strengthen his math skills. His commitment and positive attitude made our effort enjoyable and rewarding." 
When the initial Covid-19 lockdown closed our program for in-person learning in March 2020, Aidan struggled to make the transition to remote learning. He had a hard time focusing on schoolwork at home and technology challenges compounded the issue. When our program re-opened to students in the fall, Aidan took advantage of our offer to schedule appointments in our Learning Center to complete work. He diligently worked through Math content with instructor, Peg Junge, throughout the fall and winter, and passed his Math test with a College Ready score of 15 in early February. Aidan told us that he was surprised by how much he enjoyed learning Math and that turned out to be his favorite subject. He has enrolled in our Maine College and Career Access program, which has enabled him to take his Accuplacer tests and apply to Southern Maine Community College for Fall 2021 enrollment in their Cybersecurity programs. He is continuing to work with Advisor, Caitlin Clark, as he applies for financial aid and completes the steps to enroll in college. He is on track to move into SMCC housing and begin classes at the end of August. He is also working on a self-paced Microsoft Office course online and found a part time job. When asked about his experience with RSU13 Adult Ed, he said "I was able to connect with everyone here. I felt supported and having a stable environment that I could go to helped me a lot." We are so proud of Aidan and congratulate him on his achievement!
What Our Students Are Saying...
Some wonderful feedback about working with our English teacher, Brenda.
"I've never had a teacher help me and just understand the way she does. I think I've created my best work with her because of how she teaches. All of my other teachers wouldn't sit with me and take time to understand what I need in order to do the assignment. Ms. Hio-Hamdan really understood that all students don't learn the same. You can't just give students paperwork and expect them to do it; we all need someone who can understand that these things take time and not everyone can learn from the same strategies." – Kianna Kliewer, 2021, HSDC graduate
More kind words about working with our Math teacher, Peg.
"These past two semesters have not been easy. Your tutoring with math was truly appreciated. Something you said to me about math being fun and like a game stuck with me and helped me to turn my perspective around. I even used this with a student in the classroom I work in, you know what he got up and went to his cubby to do his math worksheet. I have found math hard for as long as I can remember. Your encouragement helped me PASS MAT 100!" – Jackie Betts, College Transitions Math student